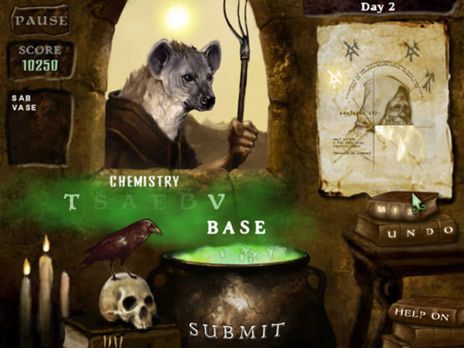 A group of evil sorcerers have turned the villagers of a medieval kingdom into monsters! In
Spellagories
, it is up to you, a legendary word master, to free the villagers from their curses and restore them to their human form.
Use clues and letters to unlock magical words. Each word you spell correctly will help lift the curse bit by bit until all of the villagers are saved. It won't be easy though, as the wicked sorcerers have added extra letters to confuse you, making the words trickier to decipher as you progress through this magical
Word
game.
Spellagories
is not your typical Word game. With its medieval fantasy setting and fast-paced challenging gameplay,
Spellagories
is a charming and enjoyable
Word
game that will be appreciated by anyone who loves this casual game genre.
Download
Spellagories
for FREE and enjoy:
Beautiful hand-drawn scenery and creature art.
Addictive fast-paced gameplay.
A unique fantasy setting.