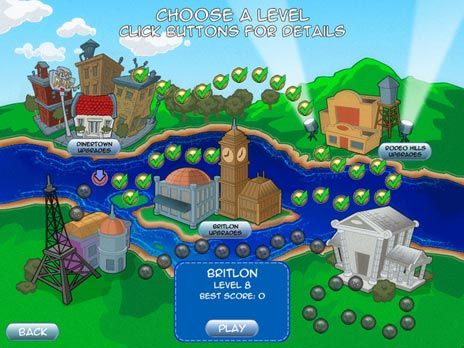 In
Dress Shop Hop
, our heroine Bobbi is fed up slaving away behind a sewing machine for her unappreciative boss. With aspirations of her own for a more glamorous career in fashion, she is inspired one day by her friends Flo and Quinn to open the world's first automated clothing store.
The idea is ingenious, albeit a little more challenging to put into practice. The shopping experience in Bobbi's shop begins with the customer being dragged on to the Analyzer machine to help choose the right garment, style and color. After that, it's on to creating the right fabric for the Patternizer which cuts it up and spits out a complete, gorgeous outfit!
Help Bobbi please her quirky customers to earn tips and progress to accessorizing her creations and expanding the fashion empire to Europe!
Download
Dress Shop Hop
for FREE and enjoy:
2 modes: Career and Endless.
50 levels of gameplay.
5 unique shops, from Dinertown to Miliano.
11 customer types.